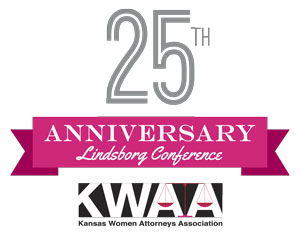 July 24 – 26, 2014
The Future is Now: Building on our 25 Years
The Kansas Women Attorneys Association celebrated our Silver Anniversary in style! Bethany College and the city of Lindsborg joined in our celebration by providing us with 25th Anniversary coffee mugs, tying silver ribbons around the downtown trees, and having the Mayor address our organization. We always appreciate the thoughtfulness of the city and the help from the school while we are in town!
As always, this year was full of exciting CLE's (Continuing Legal Education) and opportunities to learn. CLE topics ranged from Student to Lawyer to Successful Lawyer; Criminal Law 101; Appellate Advocacy Tips; Trademark Basics; to Coping with Powers of Attorney; Teacher Due Process; Social Media; Family Law; Human Trafficking Law and Surrounded by Marijuana, but not in Kansas. We are fortunate to have a wealth of knowledge and speakers willing to share that knowledge with us at our conference.
Our keynote speaker this year was New York Times Columnist Gail Collins. Ms. Collins joined The New York Times in 1995 as a member of the editorial board and in 2001 became the first woman appointed editor of the Time's editorial page. She is a noted women's historian and author of When Everything Changed: The Amazing Journey of American Women from 1960 to the Present as well as other books. Despite plane delays and what turned into a 12+ hour trip to get to Lindsborg — Ms. Collins relayed stories, thoughts, and insight. She talked about she has seen, what she has experienced, where women came from, and where they are going. After her speech she answered questions and signed books.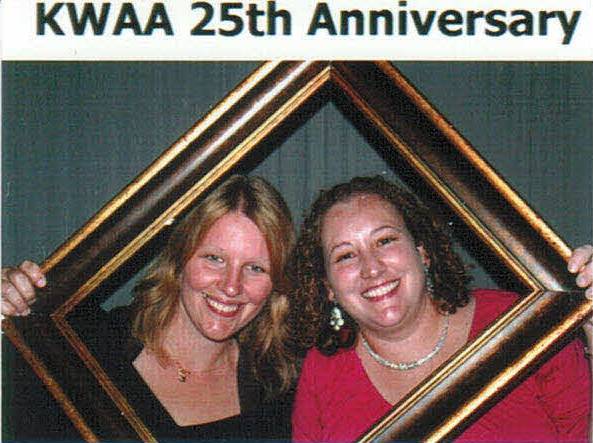 Special for our 25th Anniversary this year a history room was available. This allowed attendees to stroll down a 25-year memory lane. There were many pictures and memories from conferences past. In addition we turned our Friday night dinner in to a Red Carpet Gala. Here we enjoyed a cocktail hour, followed by dinner, historical videos, dancing, and a photo booth (graciously provided by the city of Lindsborg). While the Gala was in full swing, so was our annual auction – this year we brought in nearly $3000 MORE than our past high! All proceeds from our auction are for the women scholarship funds of KU and Washburn.
Somehow in the middle of all of this we found time to host the Solo/Small firm Luncheon, network, socialize, set our Board for the next year, and begin thinking about what the 26th Annual KWAA Conference will bring.